Continuing your trip from Macedonia across Serbia to some other destianation? Here are some suggestions and options how to spend your time while in Serbia
*Relax at "The Sunny Mountain" till Belgrade* (2 days excursion with an overnight at Kopaonik till Belgrade)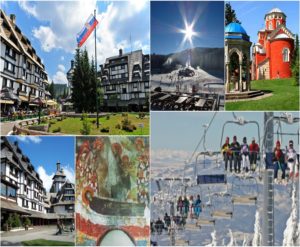 Make a break at Kopaonik, the largest and the most visited mountain tourist center in the country. It is located 230 kilometers from Belgrade. Because of its sub alpine climate and around 200 sunny days a year, it is also known as  "the Sunny Mountain". Perfect chance to enjoy yout short stay at this wonderful mountain and have a walk, ride a horse or scenic cable car ride. This is the best way to to experience one of the highest peaks of this mountain at 2017 m above sea level. Overnight in one of the best hotel resorts.
The next day, visit the Žiča monastery, an early 13th century Orthodox monastery. This monastery was the seat of the Archbishop and by tradition the coronational church of Serbian kings. Although a kind could be crowned in any Serbian church, he was never considered a tru king until he was anointed in Žiča. Lunch in a traditional restaurant on a way to Belgrade. Evening arrival in the capital city.
Activities:
Relax at Kopaonik mountain
Scenic cable car ride at 2017 meters above sea level
Overnight at Kopaonik (approx. 230 km from Belgrade)
Visit the Žiča Monastery
Lunch in a traditional restaurant
Evening arrival in Belgrade
| | |
| --- | --- |
| Border crossing: | Preševo |
| Distance to Belgrade: | approx. 400 km |
| Tour duration: | 2 days |
*Spa break till Belgrade* (2 days excursion with an overnight at Soko Spa)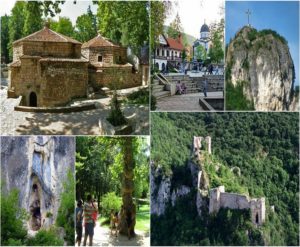 After 230 km as you pass the border and enter in Serbia, the best sport to have a break, relax and enjoy in wellness facilities is Soko Spa. This is the oldest, most famous and the most beautiful spa in Serbia, all surrounded by mountains, and the oasis of health. Enjoy in its thermal mineral waters, ideal height above the sea level, moderate continental climate, pure mountain air, and beautiful untouched nature. Medical properties of its mineral springs were known even in the Roman times.
Take a walk in the park where you can make a wish on a "Wish Tree".  See the 40 m high natural phenomenon "Madonna in the rock". It is on the riht bank of Moravica River – "painted" image of the Virgin Mary with Jesus in her arms, which people believe that has healing powers. For those who like to hike and enjoy in a magnificient view, there is a chance to climb to medieval town Sokograd. It is situated at the hill above the canyon of the river Moravica. After an overnight in this beautiful spa, on a way to Belgrade, stop to have a break and lunch in a traditional ethno village. Evening arrival in Belgrade.
Activities:
Sightseeing tour in Soko Spa
Walk to a "Wish Tree" and natural phenomenon "Madonna in the rock"
Overnight in Soko Spa (approx. 270 km from Belgrade)
Break and lunch in a traditional village on a way to Belgrade
| | |
| --- | --- |
| Border crossing: | Preševo |
| Distance to Belgrade: | approx. 400 km |
| Tour duration: | 2 days |