The Serbian President, Aleksandar Vučić, has said the country's national carrier is considering introducing scheduled commercial flights to China in the coming period. In comments following a meeting with the Chinese Ambassador to Serbia, Mr Vučić said, "We held very good and important talks … Serbia is very popular in China due to its friendly relations and we are considering for Air Serbia to launch flights to the country in the coming period, with assistance from China. We are in discussions". He added, "Last year we registered 269.000 overnight stays by Chinese tourists. With a solid program, plan and campaign in China, we believe that number could reach up to five million. Obviously, not straight away, but we believe we can significantly increase these figures. It would considerably strengthen our hotel and tourism sectors. Chinese tourists are always welcome in Serbia".
The Chinese Ambassador to Serbia, Chen Bo, noted, "We exchanged our thoughts with t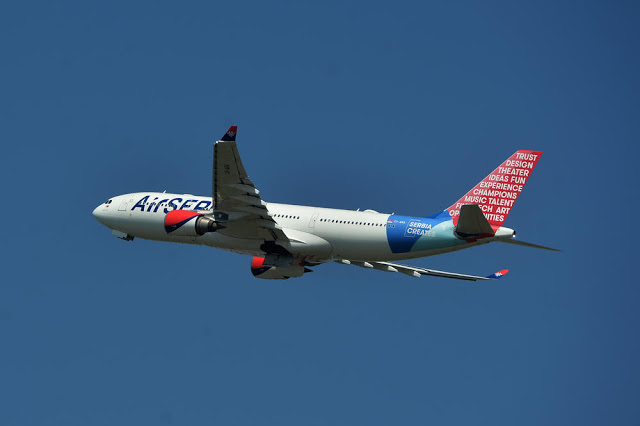 he Serbian President concerning bilateral relations in infrastructure, tourism, innovation and trade. We discussed closer cooperation in these spheres as part of the Belt and Road Initiative and the 17+1 mechanism, as well as economic recovery". Hainan Airlines abruptly suspended its two weekly service between Beijing and Belgrade via Prague in 2018 due to low demand following a year of operations. Prior to the coronavirus Covid-19 outbreak, Belgrade was the eleventh busiest unserved route from Shanghai and the seventh busiest European market lacking flights to China's most populous city.
As of this morning, Air Serbia has operated a total of thirty flights to China with its Airbus A330 and A320 aircraft since March 21 to transport medical supplies and equipment. Cargo-only flights were run to Beijing, Shanghai, Guangzhou, Chengdu and Shenzhen. Last September, the Serbian President also discussed the resumption of flights between Beijing and Belgrade with Chinese officials. At the time, the Serbian Ministry for Construction, Transport and Infrastructure said, "There are valid reasons for the resumption of these flights, considering the existing economic cooperation between the two countries and an increase in the number of Chinese tourists visiting Serbia".