Serbia spreads its connections to the world!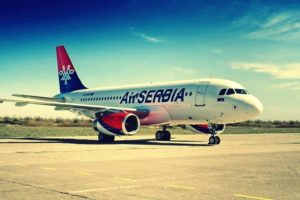 Serbia has never been closer to Europe and the world thanks to the expansion of its number of airlines and its number of airports.
Nikola Tesla Airport Belgrade
Air Serbia officially confirmed that the company will launch six new routes to destinations in Europe and the Middle East in 2020.  The new lines are expected from the 1st of  June 2020.
Air Serbia plans flights to Geneva three times a week (Mondays, Wednesdays, and Fridays), while it will fly to Florence twice a week (Tuesdays and Saturdays).
For four weekly flights, Air Serbia will offer passengers flights from Belgrade to Amman, the capital city of Jordan (Mondays, Wednesdays, Thursdays, and Sundays), to Rostov-on-Don (Tuesdays, Wednesdays, Fridays, and Sundays), to Chisinau ( on Mondays, Tuesdays, Thursdays, and Sundays), as well as for Lviv (Mondays, Wednesdays, Fridays, and Saturdays).
In addition to the new routes, the Serbian airline also announced that it will increase the number of flights on existing routes such as Prague, Zagreb, Tirana, Skopje, Bucharest, Ljubljana, Dubrovnik, Tivat, and Larnaca.
The most interesting thing is that Air Serbia plans to increase the number of flights to Istanbul, the destination to which it started flying two months ago, and from April instead of three times a week, it will fly as many as seven times.
Constantine the Great Airport in Nis
For now, four airlines fly from Nis Airport directly to European cities.
Wizz Air flies to Vienna, Basel, Dortmund, Memmingen, and Malmo.
Air Serbia flies to Frankfurt, Salzburg, Nuremberg, Hanover, Friedrichshafen, Karlsruhe, Gothenburg, Budapest, Rome, Bologna, Tivat, and Ljubljana.
Ryan Air flies to Berlin, Milan, Bratislava, Stockholm, and Malta. 
Swiss Air flies to Zurich.
Morava Airport in Kraljevo
Air Serbia is currently flying to Vienna, but direct flights to Thessaloniki and Istanbul are announced as of March 2020.
There are ongoing conversations with other companies that want to operate passenger and transport flights from that airport.
Reservations and information Travel agency Magelan Corporation,
Nikole Pasica 16,
Phone number +381 21-420-680
or by e-mail: avio@magelan. rs