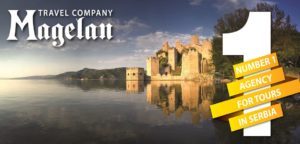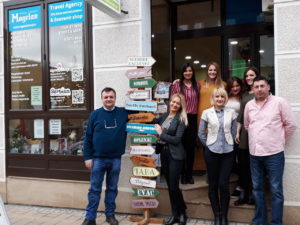 Magelan travel – The leading incoming tour operator for Serbia and the Balkan countries
If you are looking for a reliable local partner, an incoming tour operator for Serbia and Balkan/Southeast Europe, with great experience and knowledge in organizing thematic tours for different types of clients – you are in the right place.
Magelan Travel is a family-run company with 15 full-time employees, being in business since 1994.  Soon after the beginning of the transition period in the 2000s, we've started our engagement in inbound tourism. Since then, we've become the first and leading DMC company in Serbia. For more info about us, click here.
We're creating tailor-made tours through Serbia and other Balkan countries
We'll invest all our energy, passion and knowledge to develop unique itineraries that are not just ordinary tours but real adventures. Send us a request and tell us more about your clients' wishes or what kind of voyage you/they expect, and we'll create an inspiring itinerary that will certainly meet their needs.
This website presents only a fragment of our tour portfolio. If you want to offer your clients unique, unforgettable tours, the procedure to this goal is simple – you just need to fill this form and wait for our response which will come in approximately 24 hours.
During the last season, we had partners from more than 30 countries.
Why wouldn't you join the company?
Germany,  Malta,  Finland, UK, Slovenia, Belgium, Denmark, Russia, The Netherlands, China, USA, Canada, Greece, Australia, Bulgaria, Croatia, Norway, Albania, Switzerland, Austria, Spain, Poland, Romania, Egypt, Hungary, Liban, Portugal, Singapore, Taiwan and Brasil
Here are some of the partner-agencies that offer our tours:
Balkan tours
---

Make the most of every moment of your Balkans vacation. You'll discover all the can't miss scenery of Serbia, Bosnia and Herzegovina, Croatia and Montenegro, and history, including popular sights like Belgrade, Zlatibor, Mećavnik, Sarajevo, Mostar, Dubrovnik, Cetinje and many more - all in this incredible two-weeks tour.   

---

---

Wild beauty great heart Balkans- 14 days tour trought Serbia, Bosnia and Herzegovina, Croatia, Montenegro, Albania and Macedonia,

---
Regular tours - guaranteed departures online booking
Wine and gastronomic tous
Birdwatching tours
---

Birdwatching tour in Serbia for all bird lovers. Unique experience and rich fauna places. The area of Lake Rusanda is around 75 km from Belgrade, the capital of Serbia. Deliblato Sands is a unique wilderness comprising 33,000 hectares of grasslands, farmlands and mixed forest lying on a large sandy region.

---
Regular tours through Serbia for travel agents 
   As well as our tailor made tours to the whole region of Balkan (Bosnia and Herzegovina, Montenegro, Kosovo, Macedonia, Albania, Croatia, Greece, Rumania, Bulgaria), we also arrange regular group tours through Serbia. Most of the departures are from Belgrade and Novi Sad.
Incoming tour operator Serbia Balkan – Magelan travel – More info about us, our references, awards, mission and vision… you can read here.