Tito's Blue Train Tour runs once a month!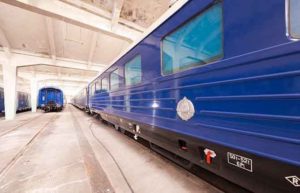 Magelan Travel got the exclusive right to organize a tour in which passengers travel to Uzice city by luxury Tito's Blue Train. The first promotional tour under this name took place in November the 29th last year and ten new departures were announced for this year. Judging by the great interest and early bookings, this tour has already won the hearts of many fans of interesting trips.
Shortly after the promotional tour, the interest of tourists from all over the region increased sharply, so we already have reservations for the next few tours. Guests from Slovenia were particularly interested in the tour after a text about the tour was published in their media.
Magellan decided to take tourists to western Serbia primarily because of the connection between Tito's epoch and the time of the Uzice Republic, the first and only territory liberated by Tito's partisans during the WW2, but also because of the natural beauties that tourists can enjoy in this part of Serbia (the mountains Zlatibor and Tara, Mokra Gora, Drvengrad, monasteries, caves, the Šargan Eight and many others).
From November to April the tour will be held under the "winter" program, while those from April to October will be conducted under the "summer" program. The later version will be enriched with optional trips and excursions.
Both versions of the tour are suitable not only for individual tourists but also for those who travel through the Balkans, as well as for closed groups (team building, etc.) for which the tour can be organized in other terms.
Regular departures for Tito's Blue Train to the Uzice Republic for 2020.  are as follows: 28th of March, 25the of April, 1 st of May, 30th of May, 27the of June, 25th od July, 22nd of August, 26the of September, 24th od October and 28th od November.
Regular departures for 2021. are the following: 27th of March, 24th of April, 29th of May, 26th of June, 24the of July, 28the of August, 30the of September, and 27the of November.
Otherwise, as part of the fourth day of Tito's Tours through the Former Yugoslavia, during which the most important historical sites of the Second World War are visited, as well as those visited and lived by Josip Broz Tito, passengers will also get the opportunity to ride the Blue Train from Belgrade to Uzice.
If you want to find more about the train and the tour, please, visit Tito's Blue Train page.