On your way from Montenegro to other country near Serbia? These transit route tours will help you make the best of your stay in Serbia. 
Enjoy in the nature  (with an overnight at Zlatar till Belgrade)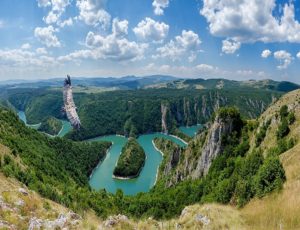 If you are entering in Serbia teritory in the early morning, this is the best way to have the best time in our country while transit. Visit the outstanding beauty of the Special Nature Reserve. Here the river Uvac weaves in spirals.
Start with a short boat trip. Exploring the river and entrance to the stunning caves with its 7km long undergorund network of amazing formations. After this experience you will have an overnight at Zlatar mountain. Continue to Belgrade early in the morning. Depenting on your arrival in Belgrade, take a short sightseening tour of the city to explore some of its unavoidable highlights.
Activities: 
Enjoy in Special Nature Reserve of Uvac
Boat trip along the Uvac River
Overnight at Zlatar Mounatain (approx. 250 km from Belgrade)
Short afternoon sightseeing tour in Belgrade (depending of time of arrival)


| | |
| --- | --- |
| Border crossing: | Brodarevo |
| Distance from Belgrade: | approx. 300 km |
| Tour duration: | 2 days |
Breathtaking Zlatibor (with an overnight at Zlatibor till Belgrade)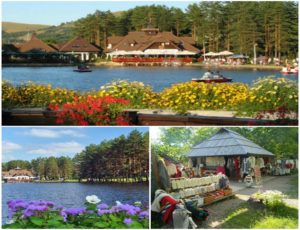 Just after 2 hours from the Montenegro-Serbia border, there is Zlatibor mountain. This is an important tourist area of Serbia, with resources for health tourism, skiing and hiking. Zlatibor is also favourite weekend destination offering excellent accommodation, beautiful nature and amazing ethno highlights.
Visit an authentic 19th century old village Sirogojno, fully operational open-air museum. It is famous for producing quality knitwear like jumpers and coats. Take a traditional dinner and enjoy in exclusively organic, homemade products from this area. After an overnight in beautiful nature surroundings, continue your trip to Belgrade. Enjoy in brief stop at Ovčar-Kablar Gorge. It is stunning natural site dubbed the "Serbian Holy Land" where Orthodox monateries are situated along river Morava. Arrival in Belgrade in the evening.
Activities:
Visit open-air museum Sirogojno and take a traditional dinner
Brief stop at Ovčar-Kablar Gorge
| | |
| --- | --- |
| Border crossing: | Brodarevo |
| Distance from Belgrade: | approx. 300 km |
| Tour duration: | 2 days |