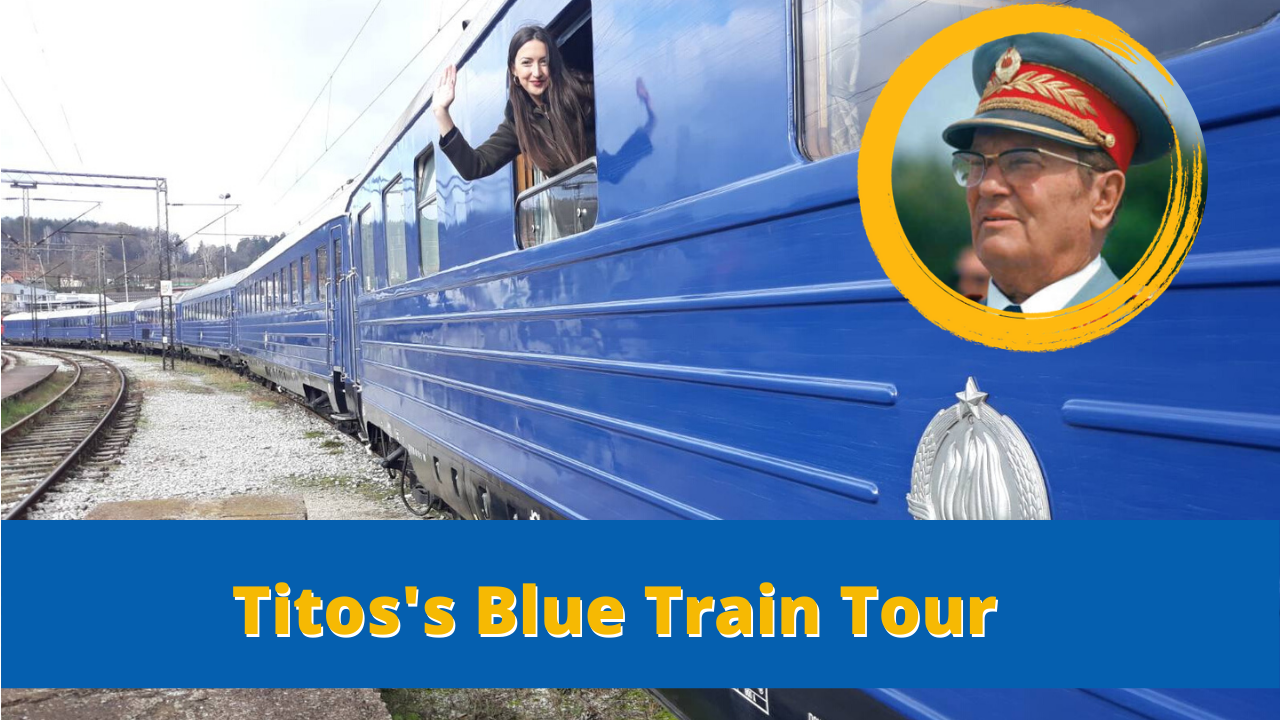 Tito's Blue Train Tours
Tito's Blue Train is a luxury tourist train once made for Josip Broz Tito, the former President of SFR of Yugoslavia.
Its opulent art-deco interior has remained unchanged even after more than half a century. With the exception of the locomotive, the entire train composition remained unchanged. Many leaders and celebrities of Tito's era traveled by this famous train. More info about the train you can read below.
For the first time, the train has been included in a commercial tourist offering.
Magelan Travel, one of the most respectable Serbian tourist agencies, was given the exclusive right for organizing the tour named Titos' Blue Train to the Užice Republic.
We made a regular two day tours.
The first day of the tour includes a train ride in both directions, 4* accommodation at Zlatibor mountain, sightseeing of the Uzice, the city where the first liberated territory was formed during WW2 and the thematic dinner with a music program. The second day includes exploring the natural and cultural beauties of western Serbia. A detailed tour description can be seen on this link.
From March 2020, regular departures are available once a month:
2020: 28th of March, 25th of April, 1st of May, 30th of May, 27th of June, 25th of July, 22nd of August, 26th of September, 24th od October and 28th of November.
2021: 27th of March, 24th of April, 1st of May, 29th of May, 29th of May, 26th of June, 24th of July, 28th of August, 25th of September, 30th od October and 27th of November.
No minimum number of pasengers is required.
Regular price is 160 eur. Promotional price starting from 130 eur.
For tour-operators may be offered special conditions and prices.
For groups, there is a possibility of a choice of accommodation and an evening program. 
If you are interested, please send your inquiry here.
Also, the tour can be combined with other multi-day historical tours through the Balkans and Eastern Europe.
Magelan travel has a 14-day tour with regular departure: Tito's Tour through Former Yugoslav Republics. For more details, please, click on this link.
The minimum number required for the realization of this tour is 5 persons. For less than 5 persons, the price is on request. We reserves the right to cancel the tour one month before departure in case of an insufficient number of applicants.
For individual tourists, it's possible to book the tour directly on the Serbian Adventures website on this link.

To merge words and pictures, watch the video on our YouTube Channel. Click here
COMPOSITION OF THE BLUE TRAIN

–

ALL YOU NEED TO KNOW ABOUT

"Blue Train" is a luxury museum-tourist train that was used exclusively for the transportation of Josip Broz Tito, high state and political figures and foreign statesmen on trips in the country and abroad.

The train was built in 1959. at the Gosa wagon factory in Smederevska Palanka and at the Boris Kidric wagon factory in Maribor.

It was named after the workers because it was painted blue to distinguish it from other trains which were mostly green at that time.
The Blue Train consisted of ten wagons called the "main train" and eight wagons of the so-called "first train".

The "main Train" consisted of a whole that provided president Tito a complete comfort and the ability to work and perform all the protocol duties during the trip and consisted of: the President's Lounge, formal dining room, main kitchen, guest lounge, restaurant wagon, closed car carriage, sleeping carts, and energy circuits.

The interior of the train is very luxurious, made of the finest mahogany, pear, and walnut wood, wool carpets, plush and silk in art deco style.

President Tito traveled more than 600. 000 km across SFR Yugoslavia and abroad.

During the Tito's time, more than sixty foreign statesmen and the most influential leaders of the twentieth century traveled by this train: Nikita Khrushchev, Leonid Brezhnev, U Nu, Gamal Abdel Nasser, Mahatma Gandhi, Ahmed Ben Bela, Seku Tours, Jalal Bayar, Konstantin Karamanlis, King Paul of Greece and Queen Frederica, Queen Elizabeth of Britain, Prince Philip and Princess Anna, as well as many others.
Otherwise, the train also houses the so-called "deaf room" in which Tito made state decisions and held confidential talks. In his study room, in which he signed the Acts, there is also a kind of precursor to a mobile phone, which he used as early as 1959.

Today, after more than half a century, the appearance of the Blue Train has remained unchanged, with all cars providing a maximum sense of exclusivity and luxury.

All wagons have comfortable equipment, air conditioning and original sound system from that time.

Wagons with conference units and sleeping cabs can also be attached to the composition as needed.

The locomotive will not be the original, but rather an electric locomotive of recent date.
Titos Tours
---

Take a ride by famous Tito's Blue Train and travel to Užice, a city where once the Užice Republic existed during WW2. This is a tour like no other you've experienced before.

---

---

This is no ordinary tourist trip, but a unique adventure during which you'll visit the most famous places of celebrated battles from WW2, as well as those visited by Tito, one of the most prominent figures of the last century. Besides, you'll see numerous natural beauties, enjoy delicious specialties and meet people of the most diverse regions in Eastern Europe.

---