Sremski Karlovci
It was my first experience travelling around Serbia and that`s how it was. We were standing in front  of the old building, which was made in the style of Italian palaces  and called The Patriarchate Court. I was feeling like i got back  to the nineteenth century between 1892 and 1895, and this is the exact dates when it was built. Above the entrance we could see the royal chapel, also central Rizal is highlighted with three windows that are bigger than others and front entrance where was set stone sculptures of two lions.
Our next stop was in two steps away, it was Cathedral Church which was built in Baroque style as a three-nave cathedral.  On the front part of the church two big bell towers stand out and a small one is between them. We came in I was literally stunned, there were so a lot of icons framed in the gold and ceiling seemed so high that I was just wondering "How people could do it? It`s something unreal".
After I regained consciousness we followed the guide again and reached small home "winery", where I first tasted rakija and home-made wine. The taste was so fruity that I just fall in love with this wine and decided to take one bottle to my country.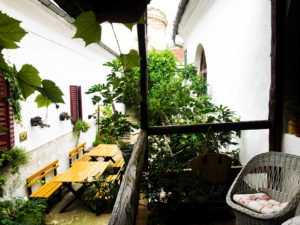 Fruškogorsk monasteries
At the time when we finished enjoying the wine, we headed to the Fruška gora to look at one monastery. While the driving on the right side from us the beauty of nature was opened. We were located on the altitude of 50 meters and everything around us was so green like in a fairytale
When we reached the monastery we didn`t hear any noise, it seemed like no one was there. This monastery actually was founded between 1509 and 1514 by Saint Maksim Branković, Metropolitan of Belgrade and Srem, and his mother Saint Angelina of Serbia. You can  see this monastery on the 5 dinar coin.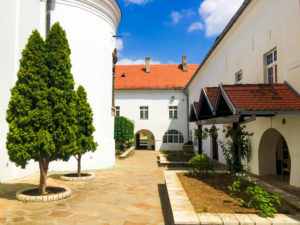 And in the end we visited small, cozy restaurant on the fresh air and tried some national meals. To be honest, I fall in love with this traditional food.
Since it was my first trip in Serbia, I had a really nice impression about this awesome country. We were exploring some local places and it was such a great experience for me. While we came back I was analyzing what I`ve seen and what I`ve heard and this happy thoughts made me sleep like a baby.